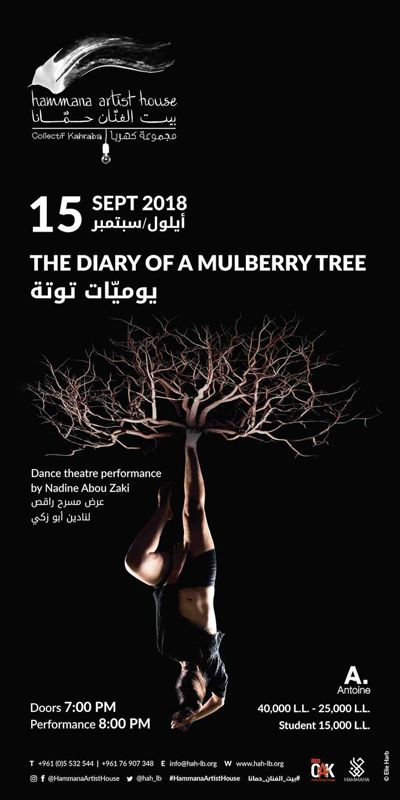 Inspired by the bloody events of the civil war in Lebanon and by Eastern philosophy, "The Diary of a Mulberry Tree" is a dance theatre performance, written and directed by Nadine Abu Zaki, and choreographed by Jean-Paul Mehansio. Following its success at Al Madina Theatre last summer, the performance -recounting the story of a mulberry tree and its relationship with its surroundings- will find new roots in Hammana Artisit House this September.
PRACTICAL INFORMATION
---------------------------
Diary of A Mulberry Tree | Dance theatre performance by Nadine Abou Zaki
Date: Saturday 15 September
Doors open: 7pm
Performance starts: 8pm
Language: Arabic | Subtitles: French
Duration: 55 minutes | Age group: All Ages
TICKETING
-----------
Tickets available at Hammana Artist House, Librairie Antoine & Antoine Online:
https://www.antoineticketing.com/index.php?event_id=5978
Prices: 40.000 LBP, 25.000 LBP | 15.000 LBP Student
Transportation available for an additional 10.000 LBP
Meeting point: The Parking behind Sodeco square shopping center
Departure time: 6:15pm
Return is after the performance
CONTACT
----------
Inquiries: WhatsApp 76907348 / info@hah-lb.org
Press: 03944126
ABOUT THE PERFORMANCE
----------------------------
Do trees have a memory? Do they have consciousness? Do they communicate with their environment?
Can they hear, smell and feel? How do they respond emotionally to humans? Do they feel pain or experience joy or sadness? What is our responsibility as humans towards nature and the environment in today's digital age?
Inspired by the bloody events of the civil war in Lebanon and by Eastern philosophy, this performance is about a mulberry tree telling its relationship with its surroundings. The tree Pyramus unveils its secrets with the Zanzalakht tree Thisbe and humans: it whispers its joys, fears and angers. Through its story, we will learn the deeply moving stories of the people who interacted with the tree and lived around it. The mulberry tree, central in the life of the characters, has borne witness to the most intimate details of their daily lives.
This performance is inspired by the lessons drawn from history and reflected through dance, poetry, narration, music, where art and nature blend harmoniously to create bodies telling the "Diary of a Mulberry Tree".
ABOUT NADINE ABOU ZAKI
----------------------------
Nadine Abou Zaki is a sculptor, writer and Red Oak Founder. Her monumental sculptures are installed in front of the Lebanese Ministry of Tourism, the French Embassy and the Chamber of Commerce and Industry in Beirut.
Her latest interactive performances "Please Touch" and "Please Touch the Trash" were performed in BIPOD, Beirut Art Fair and Station. In 2018, she initiated the project "Doors, Please Touch" in partnership with the Omero National Museum of Italy, which aims to facilitate the entrance of the blind and visually impaired to museums in Lebanon.
She holds a PhD in Philosophy from Sorbonne-Paris IV and teaches Philosophy at the American University of Beirut. In 2016, she was named a "Chevalier dans l'Ordre des Palmes académiques" by the French Ministry of Education, and in 2009, she was awarded the "Prix de la Laïcité" by the Secular Republican Committee (Mairie de Paris).
CREDITS
---------
Writer & director by: Nadine Abou Zaki | Choreographer & dancer: Jean-Paul Mehansio | Performers: Dana Mikhail & Rouaida al Ghali | Live music: Tony Elieh | Assistant director and costumes designer: Bshara Atallah | Lighting designer: Ahmad Hafez | Set execution : Bahaa Abou Zaki | Photo by Elie Harb | Co-production: Red Oak | The performance was originally created with the support of: Institut Français du Liban